ENDUR-ACIN®
A Nutrition Prescription for Heart Health
It's easy to see why doctors prefer ENDUR-ACIN® wax matrix nicotinic acid as part of a diet and lifestyle program for heart health. Here's why:
ENDUR-ACIN®
ENDUR-ACIN® is the real deal. With our advanced delivery technology, you have a nutrition prescription in a class by itself, thanks to a slow and steady dissolution rate that's right in the sweet spot that doctors prefer.*
ENDUR-ACIN® is backed by a portfolio of clinical research and available in three strengths – 250 mg, 500 mg, and 750 mg – for easy compliance with doctor recommendations.
In addition, it's free of salt, sugar, starch, preservatives, artificial colors or flavorings, and common allergens (milk, egg, fish, shellfish, tree nuts, peanuts, wheat and soy).
ENDUR-ACIN®
Targeted Support for Cholesterol Balance
ENDUR-ACIN® Extended Release Vegetable Wax Matrix Niacin is a unique dietary supplement designed for men and women interested in advanced support for heart health and cholesterol balance.*
Why Extended Release?
Low flushing, fewer side effects
Continuous release of nutrients
Gentle on your stomach
Dissolves over time
Quality absorption without waste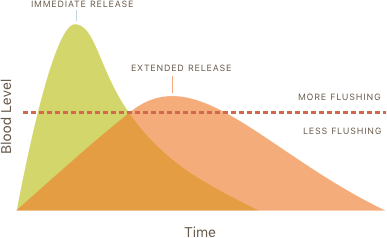 Convenient & Affordable
ENDUR-ACIN® is affordable and available without a prescription.
Doctor Recommended & Research Backed
Recommended by hundreds of physicians to complement a therapeutic diet and lifestyle.
Reduces Skin Flushing
Common in other niacin products.
Benefits Your Heart & Lipid Metabolism*
Promotes healthy cholesterol balance.*
Gentle on the Stomach
Slow and steady nutrient release helps eliminate digestive upset that can occur with regular forms.